Princess Mononoke/Prince Ashitaka Costume Detail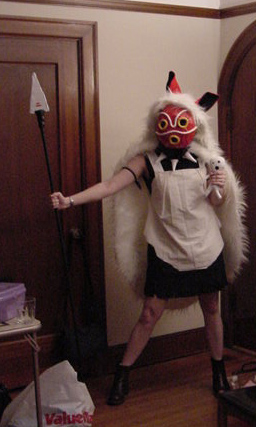 Princess Mononoke was amazing movie and I had a friend who fit the title role perfectly! I 'forced' her to wear this outfit to a Halloween party. The mask is painted paper mache, lined with soft velour, and attached to a fake white fur cloak shaped to mimic a wolf pelt. There are red/black ears attached to the top and stabilized with wire.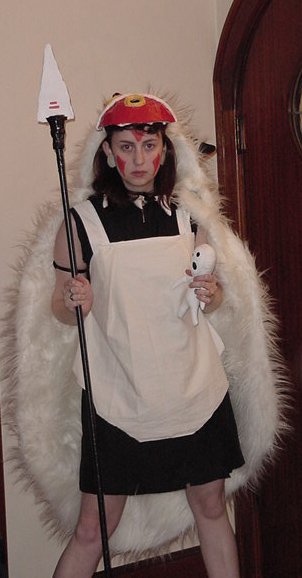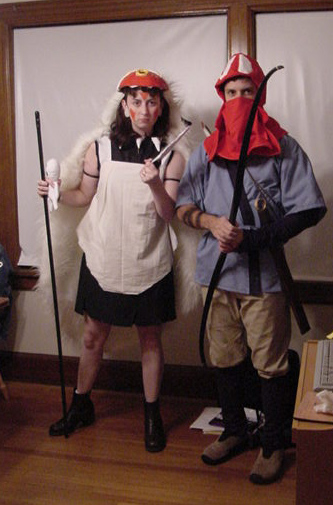 Another paper mache piece was fashioned into a dagger shape that can also fit on the end of a narrow PVC pipe for her spear. The Kodama is a simple white doll, with a small egg shaped rattle inside to make the appropriate sound when shaken. Under the mask, she wore red face paint. Mother of pearl earrings from Hawaii completed the look.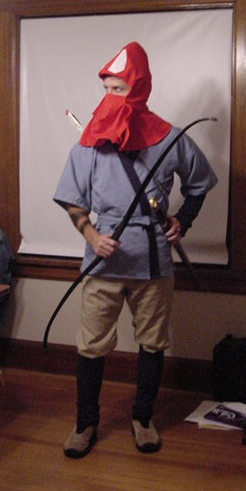 Princess Mononoke needed companionship at the party and my husband volunteered to play Ashitaka. I made the red hood and appliquéd the white spots. The rest of his clothing was made following simplified traditional Japanese clothing patterns. The sword and scabbard were fashioned from odd bits of wood, cardboard, duct tape and a toilet paper roll for the hilt. The blade is actually a free paint stirring stick from Home Depot! We applied black oily make up to his arm to simulate the effects of the demonic curse – and ended up with most of his outfit 'cursed' by the end of the party….


Back to Mononoke/Ashitaka Costume Main Page
Home | Costumes | Ordering | Contact Us